Nearly seven years ago I started "Micah Fraim, CPA" on a bit of a whim. As I've noted to many of you along the way, I started with $2,000 in the bank, no clients, and next to no contacts. I spent half of that money on the laptop and software I needed and hoped for the best.
How very fortunate we've been since then. We've worked really hard these past few years, but all of this has only been possible because of YOU!
When we started, I had a simple goal: to provide the best CPA services in town and to be a true partner to each and every one of my clients. To be a trusted advisor in every business and financial decision they made. And for the most part, I feel like that's what we've accomplished.
But as we grew and got busier, there were some challenges. Keeping up became more difficult. With the increased volume, projects were taking us longer to complete. Responsiveness to emails and phone calls took a dip. Sure, things were still getting done, but not in the way I wanted. Not in the way YOU deserved.
So about two years ago I had to sit down and take a hard look at how to correct the course. Hire more admin staff? Hire full-time bookkeepers and tax preparers? Hire an army of freelancers?
After rounds and rounds of interviews and finding a particularly spectacular candidate, I made a decision I would have never even imagined years back. And I couldn't be more thrilled about it.
The decision? To give up part of my company; to bring a partner into the firm. This month we formalized just that.
Many of you have already worked with David Cawley. In the few years he's been with us, he has proven himself to be an absolute asset to all of our clients. In my egotistical reckoning, he's another Micah (well, the good parts at least – he's a lot nicer than I am). We still confer with one another, but I am always able to trust that his advice is the same guidance I would give to my clients. There has never been another accountant with whom I've had that confidence.
And with his inclusion into the firm, I am pleased to announce our firm's new name: Fraim, Cawley & Company, Certified Public Accountants.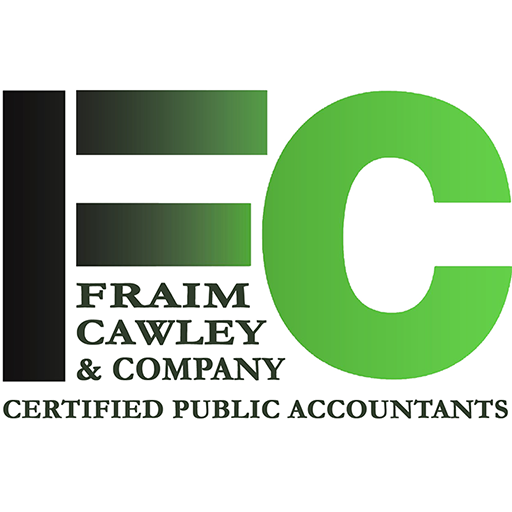 With Dave on board, we've been able to continue doing the things we've excelled at but also fixed some of the areas I hadn't always been so pleased about.
In short: we've been able to serve you all better again.
Thank you all so much again for your support all of these years. We are so excited to continue working with you for many years to come.
Any accounting, business, or tax advice contained in this communication, including attachments and enclosures, is not intended as a thorough, in-depth analysis of specific issues, nor a substitute for a formal opinion, nor is it sufficient to avoid tax-related penalties.